Do you want to auction off your coins? Or do you want to buy coins at an auction? Veilinghuis De Ruiter is the place to be. With more than thirty years of experience in the coin trade, we're an auctioning company with a lot of expertise and experience. Multiple times a year, we have a coin auction where coins are offered in several ways. This way, clients can directly bid on the in-room auction straight from their home. There is also the opportunity to already bid on a lot in the pre-bid before the auction starts. This can be done both online and in writing.
Diversity in coins
Our coin auctions consist of various categories of coins, which makes every auction different, depending on what's offered. The various parts consist of auctioning off Dutch coins (Dutch East Indian Trading Company, colonial, royal, provincial, low lands, medieval) and foreign coins (Greek, Roman, and several European countries). Additionally, our coin auctions also contain medals and jetons.
Auction catalogue for coins
For every coin auction, there will be a catalogue that contains the coins to be auctioned off. You can also already view the coins only and bid immediately. Veilinghuis De Ruiter offers the ability to already bid in the pre-bid a few weeks before the auction commences. You can also enter your automatic bids here, so you don't have to miss a single coin.
Data and practical information about our numismatic auction can be found on our website. You can also register on our website if you want to bid in our coin auction. When you want to make a bid in writing, you will find information and a bidding form on our website.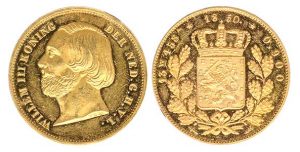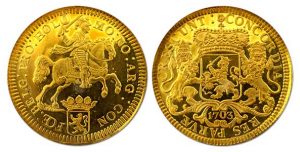 Auction off your coins?
Do you want to put up your collection of coins or part of it for auction? At Veilinghuis De Ruiter, we make large profits for coin collections that are brought in. Bringing in your coins can be done through our main office in Klaaswaal, but also during one of our valuation days that we hold throughout the year, throughout the entirety of the Netherlands.
Coin auctions and more
Veilinghuis De Ruiter also organises several other auctions of banknotes, gold, silver, art and antiques etc. Thanks to our broad knowledge and long experience in all these areas, you can offer your objects all in one go. We try to customise for every client, so we can reach the biggest profit for your collection.