Do you want to auction off a collection of banknotes? Or actually buy banknotes at an auction? Veilinghuis De Ruiter auctions large collections of banknotes multiple times a year. With more than thirty years of experience in the collector's branch, we're the auctioning company with a lot of expertise and experience in the field of paper money.
Our auctions of banknotes have great variety. We auction off everything from Dutch State banknotes and those of Overseas areas to emergency money, ship money and foreign banknotes.
Dutch State banknotes
Dutch banknotes are defined as all old banknotes of the Dutch Bank, from 1 guilder to 1000 guilders. The oldest Dutch banknotes dates from the year of 1814. These are the "Robin" types, notes of twenty-five to a thousand guilders. These banknotes were issues between 1814 and 1862 and have few differences. All these notes have written signatures and an ornamental border of music symbols.
Banknotes have a great wealth and variety of appearances. Colours, sizes, safety marks, printing techniques, types of papers and designs all cause a lot of variety in banknotes. Combine this with the rich history that banknotes have and it will become clear that banknotes are a great thing to collect.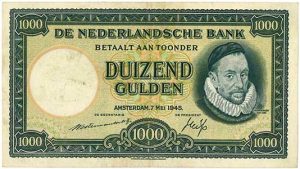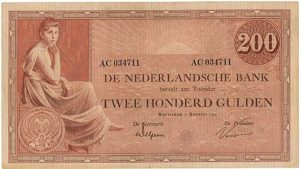 Foreign banknotes
Paper money is collected by many people worldwide. Based on countries, quality and themes. For Dutch collectors, the Overseas areas, as part of the Kingdom of the Netherlands, are also a very attractive field of collecting. New techniques also open up more collecting possibilities. There are a lot of countries that print notes on special types of paper. The last couple of years, the number of people who collect Polymer banknotes has increased.
Great opportunities at banknote auction
Buying banknotes at an auction can lead to some interesting purchases. Especially old banknotes are hard to find and a precious thing to have due to rarity. Specimens from private collections regularly show up at auctions and are very desired by banknote collectors. It's therefore smart to keep a close eye on our banknote auctions as not to miss out on unusual specimens.
Qualities of paper money
The quality of a note plays a large part in auctioning off and collecting banknotes. Old, rare notes are rarely the highest quality of UNC. This is the highest attainable quality, which means the banknote mustn't have a single flaw. So no defects like discolouration of the note, traces of a money counter, rounded corners, tears etc. Banknote collectors put their collection together in their own way. That means that the highest quality isn't necessarily the most appreciated by everyone.